THE HAUSMANN QUARTET BACK ON BOARD FOR SEASON 4 STARTING JANUARY 13
Concerts at Maritime Museum of San Diego Provide a Unique Floating Musical Experience
The Hausmann Quartet
 and 
Maritime Museum of San Diego
 are excited to partner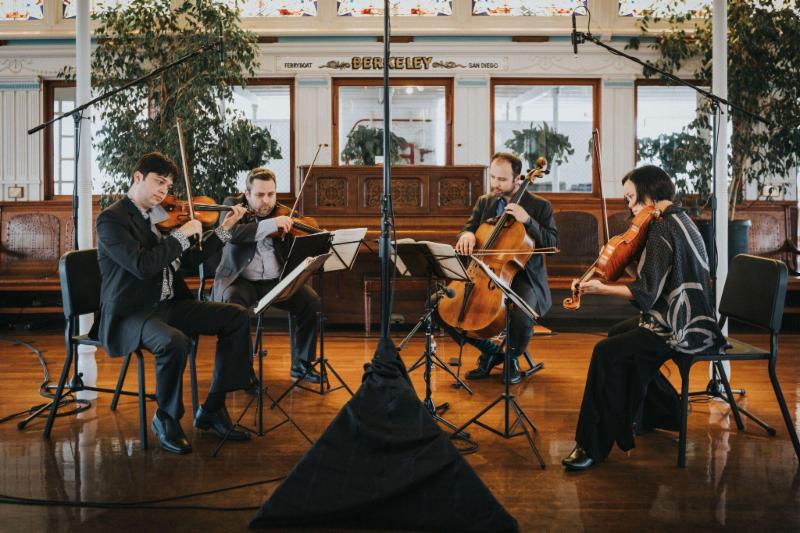 to present the fourth season of 
Haydn Voyages: Music at the Maritime,
 a quarterly concert series performed aboard one of the Museum's ten historic world-class vessels, the 1898 steam ferryboat 
Berkeley
 that operated for 60 years on San Francisco Bay.
Concerts aboard the Berkeley, also a National Historic Landmark docked in downtown San Diego next to Star of India, explore the evolution of the string quartet through the lens of Joseph Haydn's quartet cycle. The programming and performances by this accomplished young foursome set his works alongside those of master composers from our own era and stretching back to his musical ancestors. As the father of the string quartet and one of history's most innovative composers, Haydn is an ideal guide to this exploration of some of the most powerful, creative music ever written.
"As Hausmann has amply demonstrated in its long-running project to play all of the Haydn string quartets at the San Diego Maritime Museum, these musicians matched enviable technical prowess with ardent conviction." – San Diego Story
Maritime Museum of San Diego Director of Development Kelli Lewis outlined the uniqueness of the experience, "For the last three years The Hausmann Quartet has created an exquisite mix of music and education for visitors looking for a new cultural experience surrounded by maritime history and vessels from 500 years of seafaring history from sail to steam to submarine."
The consistently creative and adventurous programs presented in the series combined with the idyllic views and sounds of the harbor make Haydn Voyages one of San Diego's best-loved young cultural institutions.
The fourth season will take audiences on a series of wonderful journeys, with programs that encompass a vast range of themes, sounds, cultures and emotions. Come enjoy world-class performances on the city's only floating concert hall!
"The Hausmann Quartet is one of a handful of string quartets…that move with fluent ease from Classical-period works (Haydn is one of their specialties) to contemporary works by living composers." (San Diego Union-Tribune).
January 13 – Reconstruction and Transformation
The season opens with an exploration of the transformative power of music through works with strikingly different points of origin and world views. Music by Jessie Montgomery, Pauline Oliveros and Dmitri Shostakovich (his intense and powerful Ninth Quartet) each mirror Haydn's constant reinvention and endless creativity in unique ways.
March 31 – Songs of the World
This journey around the globe spans cultures, eras and political issues that are as alive today as they were in Haydn's 18th-century Europe. His "Emperor" Quartet is complemented by a haunting setting of an Armenian folk song by Mary Kouyoumdjian and Terry Riley's G Song (the work of an American master who draws on truly global influences) complete this international voyage, with Haydn as fearless leader.
September 15 (KPBS night) – Loss and Renewal
This concert spans the full range of our human experience: impending death and unspeakable tragedy of losing a child, contrasted with the sense of hope and renewal that comes with the birth of another child, and an unexpected recovery after a long illness. Beethoven's opus 132 Quartet, a world premiere by Ryan Carter and Haydn's quirky opus 17/1 Quartet completes this emotionally potent evening. This concert is also the annual celebration of KPBS' sponsorship of Haydn Voyages.
November 10 – Frog and Hair
Mischief and wry humor abound in 2019's final concert, featuring quirky miniatures by Andrew Norman and Igor Stravinsky to go along with two of Haydn's best-loved works, his so-called "Frog" and "Lark" Quartets. Come enjoy some clever musical jokes, winks and nods to go along with the beautiful sunset aboard the Berkeley as the fourth season of Haydn Voyages comes to a close.
Part of the vision for the Haydn Voyages series is for the Hausmann Quartet is to perform the entire Haydn cycle of 68 works. Their scorecard now stands at 20, or 29%. This concert is the opening of the fourth season; the 2019 season will continue on March 31, September 15 and November 10. All concerts are Sundays at 4 pm, and refreshments will be available at the upper deck bar starting at 3:30 pm. Each creative program will also include informative and entertaining commentary during the performance from noted UC Santa Barbara musicologist Derek Katz.
The Hausmann Quartet and Maritime Museum are delighted to welcome back KPBS as the exclusive media sponsor of Haydn Voyages: Music at the Maritime, and would also like to recognize the support of pH Projects and the County of San Diego's Community Enhancement Program.
TICKETS and SHOW INFORMATION – Haydn Voyages: Music at the Maritime 
9 am          Museum & Gift Shop open
3:30 pm    Upper Deck Bar Open for beverages & snack service
4 pm         Concert
ADVANCE TICKETS/DAY OF CONCERT
$50/60 VIP Reserved seating
$25/28  General Admission
$20/22 Maritime Museum members
$10/12 students/military
$40 Package deal for museum + concert admission
20% Discount on Season Subscription (4 concerts: $160 VIP Reserved or $80 General Admission)
Online Tickets at  TICKETS
Phone: 619.432.2314
ADDED BONUS: Ticket purchase includes a 50% off general admission ticket on your next visit to Maritime Museum of San Diego.
Nearby Parking lots for $10 a day

Photos by Sam Zauscher
The Hausmann Quartet has established itself as an integral part of the cultural life of Southern California since its arrival in San Diego in 2010. As the Fisch/Axelrod Quartet-in-Residence at San Diego State University they teach and organize the chamber music program, engage in interdisciplinary collaborations with other departments and visit local schools for concerts and clinics on behalf of the School of Music and Dance. They pioneered interactive programs for students, adult amateur musicians and local seniors and homeless with support from Mainly Mozart, the Irvine Foundation, National Endowment for the Arts and ACMP, and continue to administer and direct these programs as their own non-profit organization serving the Greater San Diego area, with recent grants from the California Arts Council and County of San Diego. Current community engagement partnerships with organizations including Art of Elan and Resounding Joy deepen the quartet's local impact.
Founded in the summer of 2004 at Lyricafest, they have recently been hailed as "Excellent" by San Diego Union-Tribune, which also cited "Their outstanding virtue is a rare one: the ability to disappear into and behind whatever they are playing, leaving only the music in view." They maintain an active performance schedule throughout North America and Asia. The members of the Hausmann Quartet are violinists Isaac Allen and Bram Goldstein, violist Angela Choong and cellist Alex Greenbaum. The quartet is named after Robert Hausmann, the eminent 19th-century German cellist and founding member of the Joachim Quartet.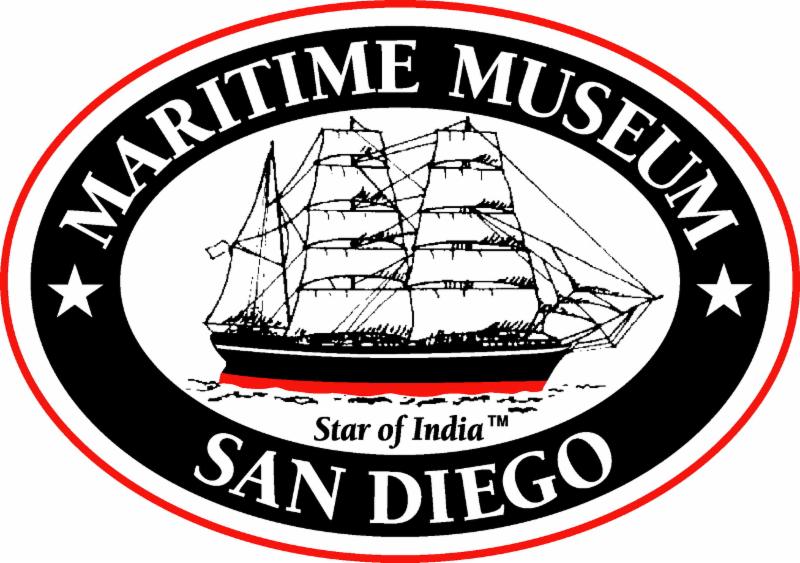 The Maritime Museum of San Diego experience includes admission to a world-class collection
of historic sailing ships, steam-powered boats, and submarines, each offering entertaining and
educational exhibits. The 501c3 non-profit Museum enjoys an international reputation for
excellence in restoring, maintaining, and operating historic vessels including the world's oldest
active sailing ship, Star of India. Maritime Museum of San Diego is ranked as one of the nation'stop attractions offering self-guided tours, docent-guided group tours, tall ship charters, year-round public events, educational programs, and a distinctive venue for corporate/private events.
The Museum is open daily along Star of India Wharf at 1492 North Harbor Drive, San Diego, CA,92101-3309.
About musicologist Derek Katz
Derek Katz is an Associate Professor of Music History at the University of California, Santa Barbara, where he received his PhD. He also holds a degree from Harvard, and has studied at The Free University of Berlin on a Fulbright Fellowship. A specialist in Czech music, he has published articles in Musical Quarterly and multiple Czech journals, as well as chapters in Nineteenth Century Chamber Music (Schirmer, 1998), and in Janáček and His World (Princeton, 2003). Katz has also written for The New York Times and the San Francisco Opera and spoken at Lincoln Center and Carnegie Hall. He is an enthusiastic amateur violist and chamber music player.